Brand For You
'You don't have to fit your clothes, your clothes have to fit your body.'
Our team has over 10 years of experience in the apparel industry, which helps us identify and provide solutions to a variety of apparel problems.
Fibami is 100% Estonian brand. Our sports- and activewear is feminine, timeless and sustainably made, which makes our products longlasting. Fibami was created to solve real problems in finding suitable activewear and we are still growing and evolving together with our customers.
Our mission is to boost your confidence by offering skin-friendly and well-fitting products that fit perfectly with your body-type and length.
About our brand and products:
Estonian design and production
Sustainable materials and production solutions
Longlasting - timeless design and quality materials
Products for different heights and body types
Personality - custom orders available
We are in constant dialogue with different women to gather more information and develop better products. We are very happy to hear from you - info@fibami.com or send a message to our social media accounts: FB (@fibami) and IG (@fibami_activewear)
Fibami Products
From our selection you will find sweat wicking and trimming sportswear for workouts and silky soft leisurewear for your other activities. We are always thinking about the needs of our clients and we offer our leggings and pants in 3 different lenghts, up to 185 cm.
Our products are made out of carefully selected materials. Our leisure and lounge collections are made out of natural and ecofriendly materials, such as bamboo and organic cotton. All our fabrics have OEKO-TEX 100 certification. Sports fabrics are produced in a BlueSign certified factory, that offers:
Greensoul recycling technology
Power Performance for performance sports
FresFeel cooling technology - fabrics with cooling effect for summer season
Thermal Control technology - warm fabrics with insulation for winter season and Water Repellent technology for rainy days
You can read more about our fabrics on our MATERIALS page.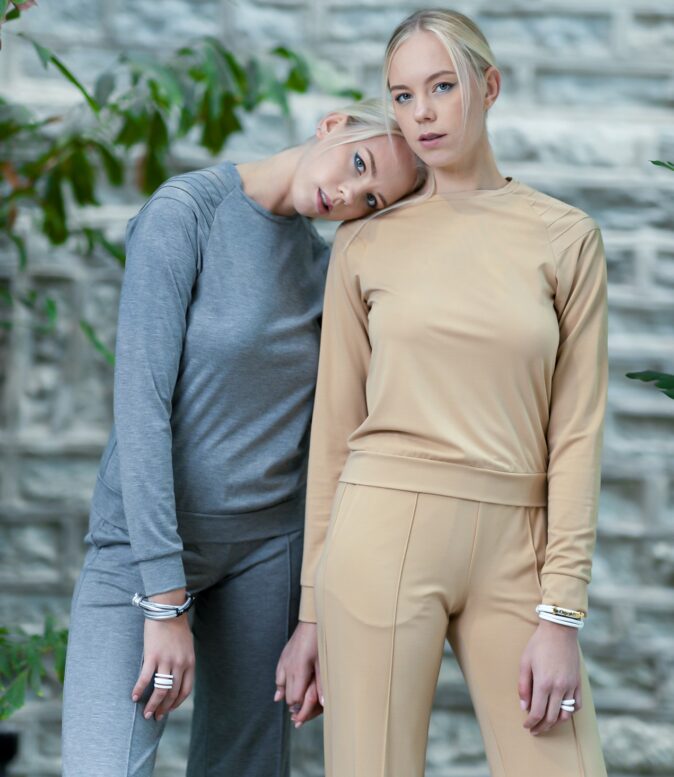 Fibamian's values
Fibami is a brand which is perfect for women who value their own well-being.
Ailen is a garment technologist by profession. For the past 10 years, she has worked in various companies as a tailor, product developer, and sourcing, product development and production manager. Her professional commitment and ambition have helped her reach her goals and overcome a number of obstacles. In addition to her professional work, she has educated herself in marketing and business.